The following article orinially appeared in Breadlines: Volume 18, Issue 3. A publication by the Bread Bakers Guild of America.

By Daniel Leader, Guild Member and Co-owner of Bread Alone Bakery, Boiceville, NY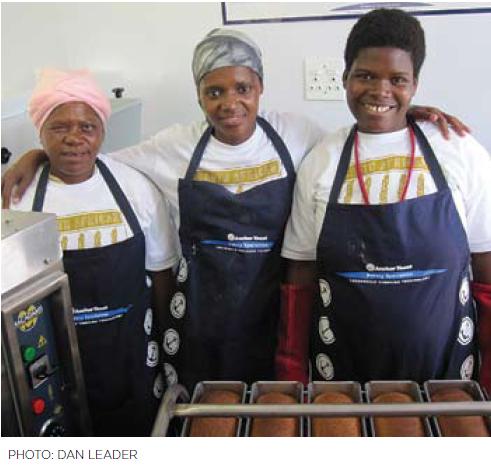 The multicolored door to the metal shipping container creaks open to reveal two South African women pulling honey-colored loaves from a shiny oven. Outside the newly painted doors, three children munch on fresh bread in the hot, dusty courtyard of Nkosi's Haven. I stand aside and watch, dressed in my baker's pants and chef's coat, while a group of neatly dressed children begin to gather around their mothers and other community women who have assembled to witness the fledgling beginnings of what I cautiously hope will be the gateway to their health, healing and livelihood: The South African Whole Grain Bread Project.


All of us at Nkosi's Haven and Village would like to sincerely thank everyone who volunteered 67 minutes of their time yesterday in celebration of Madiba's birthday, and of the 67 years he has spent in service of South Africa and the world. A special thanks to Proteas cricketers Rusty Theron, Lonwabo Tsotsobe and Ryan McLaren and everyone at Cheesekids for Humanity for helping brighten the atmosphere at our Haven in Berea!
A very happy birthday as well to Nelson Mandela. You continue to be an inspiration to all of us at Nkosi's Haven. Thank you for your support of Nkosi and all of the children in South Africa. Ilanga elimndandi kuwe! Imini emandi kuwe!Veels geluk met jou verjaarsdag! Ilanga elimnandi lamabeletho! Mahlatse letšatšing la matswalo! Letsatsi le monate la tswalo! Lusuku lwekutalwa loluhle! Ndzi tlangela siku ro velekiwa! Masego a Letsatsi la Matsalo! Duvha la mabebo lavhudi!
Please view the links below to see what other community members did to support Nkosi's Haven and Village during thier 67 minutes:
Supersport.com: Proteas paints orphanage for Mandela Day
Sowetan – Cricket Heeds Madiba call