The South African Whole Grain Bread Project
I never imagined I would be on the forefront of the movement to help the victims of AIDS and poverty, and I certainly never thought that my love of baking would bring me to an AIDS refuge in Johannesburg, South Africa. But here I was, teaching my craft to this enthusiastic
group of women, a loaf of bread in my hands and a smile on my face as I watched the loaves roll out. Here is how I arrived at that point.
In April 2005 I had boarded a plane to South Africa to consult with that nation's largest supermarket, Pick'n'Pay, to develop a line of artisanal breads at their central bakery in Johannesburg. An old friend and colleague, Jimmy Riesenburger, whom I met during my five-year stint as a consultant at Wegman's supermarkets in upstate New York, had moved back to his home in Cape Town and was working for Pick'n'Pay. In the weeks prior to leaving, I had prepared myself by reading as much as I could about the culture, history, and
people of South Africa. The book that touched me the most was We Are All The Same: the Story of Gail and Nkosi Johnson, by Jim Wooten. An excerpt of the book review in Booklist:
In 1989, the year that [Nelson] Mandela was released from prison, a Zulu baby named Nkosi was born HIV-positive to a teen single mother dying of AIDS. Wooten, ABC News senior correspondent, tells Nkosi's family story of hope and heartbreak in a clear dramatic narrative that personalizes the apartheid politics as well as the present devastating statistics and the struggle against prejudice. At age 2, the sick little boy was taken in by a loving white family, and with the support of his activist white foster mother, Gail [Johnston], he became a famous public figure in the battle against discrimination. He won the legal right to attend school. At 11, shortly before he died, he gave an electrifying speech to an international audience. Wooten gets close to the dying child and his white family, and he writes passionately about Gail's fight and about President Mbeki's absurd denial that has enraged the health profession. Most haunting is the breakup of black family life stretching back across generations, the desperation of the teen that gets AIDS and gives it to her son.
– Hazel Rochman
The night before I left, I was visiting my friends, Mark and Lisa, at their farm north of New York City and shared with them my reactions to this touching story. To my surprise, Mark told me that Gail Johnston was a friend of his, and he gave me her cell phone number. I called Gail two days later, as soon as I arrived at my hotel in Johannesburg (Jo'burg to the locals): "Hi, Gail, this is Dan Leader, a baker from the U.S. I'd like to come do some volunteer work at Nkosi's Haven [Gail's creation: a home for destitute, HIV-positive mothers and their children] while I'm in town."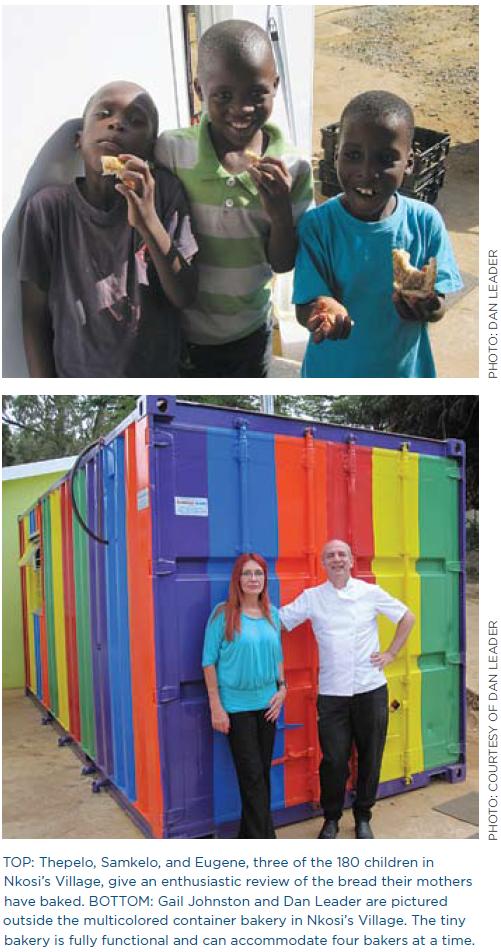 "Darling," she said in her long, slow South African accent, "don't just come to visit – come and teach the moms how to make whole wheat bread. The stuff they eat is just disgusting, and they need all the calories they can manage." A couple of days later I gathered the ingredients for my class and called a cab to take me to Nkosi's Haven, located in central Johannesburg, The ride to Nkosi's was a glimpse into real life in South Africa. We passed rich and opulent suburbs, luxurious homes with pools and wellmanicured gardens behind high walls bejeweled with security cameras, and headed towards central Jo'burg. We drove past Alexandria, a massive squatters camp filled with hundreds of thousands of tin shacks, and Hilbrow, a dense downtown area considered the one of the most dangerous in all of South Africa – and South Africa is considered one of the most dangerous countries on earth.
When we arrived, the cab driver gave me a look like "Buddy, do you really want to be here?" I assured him that this was the place where I was supposed to be. Nkosi's Haven is located in two old houses in a gritty area in central Jo'burg. I unloaded my bags of flour and went inside. Gail hugged me like a lifelong friend and called the moms and kids into the simple kitchen. As I have done hundreds of times before in dozens of kitchens, large and small (I've taught baking at the Culinary Institute of America, the French Culinary Institute and the Institute of Culinary Education as well as many small schools across the country), I stood in front of my class and took a deep breath. All the moms were either HIV-positive or suffering from fullblown AIDS. The kids were dressed neatly in worn clothing and were looking at me with an endearing mixture of curiosity and confusion. I began explaining how to make a simple whole wheat loaf. We kneaded and shaped and baked as a group, and by the end of the class, the room was filled with smiles and the smell of warm bread. As I was leaving, Gail looked at me and said, "We should build a bakery for the moms to run!"
In that instant, the idea for the South African Whole Grain Bread Project was born. Over the next five years I commuted every three months to South Africa, and I've now been there 19 times. As promised on my contract, I worked at Pick'n'Pay, training young people from all over South Africa in the art of artisan hearth baking at their central bakery, and I worked with Gail and many other enthusiastic people both at my bakery, Bread Alone, and in South Africa, to design a model of a small bakery the moms could run. The logistics of bringing together the necessary equipment for the bakery and providing training for the moms took a great deal of mental gymnastics and dealing with international red tape, but we were all determined to get the project off the ground. It's a long story with many stops and starts, but in the end we built a modern bakery in a grey steel shipping container which then traveled overland to Nkosi's Village, where it was installed and promptly painted in vivid colors by the residents.
Macadam's Baking Systems in Cape Town and Container World, a company that transforms containers into all kinds of mobile businesses, were both generous and instrumental in the creation and mobilization of the container. In order to raise funds, we promoted the Whole Grain Bread Project at Bread Alone Bakery. We were invited to enter an international small business competition in the Netherlands called the Business in Development Challenge, where we won second prize amidst several thousand entries from all over the world. The bakery in the multi-colored container sits at the entrance of Gail's newest venture, Nkosi's Village, which is home to 100 mothers and 180 children. The bakery can produce 200 fortified whole wheat loaves per hour and can accommodate four bakers per shift. We are feeding the community as well as selling bread to stores and a farmers market. We have plans and donors for a second bakery in Cape Town and are raising money for a third bakery at McCord Hospital in Durban. Poverty, AIDS, war, hatred and natural disasters all strike hard. As Westerners who are privileged to move about freely and comfortably, we are often challenged to help. I would love to get help from interested bakers who would like to contribute their talents, or individuals or companies who can help with funding.
Contributions can be made through our website, www.sawgbp.com.
For more information about Nkosi's Haven and Village, please visit www.nkosishaven.org.